Prior to placing your order, we advise that you use our Free planning service for any complicated areas such as Hall, Stairs & Landings, or rooms that require seams. This will enable us to make plans based on your sizes to minimise waste and avoid errors. We can also ensure you order the correct accessories. Our products are sold in metric. However, if you prefer to measure in Feet & Inches that is absolutely fine and we will plan for you in that way also. We will then convert the total size needed back to metric for ordering purposes.

Rooms
* Measure the widest and longest point of the room.
* Carpets are cut from rolls that are usually 4m (13'1) wide. (Some width variations do exist, such as extra wide at 5m/16'4).
* Vinyl rolls are 2m (6'6) , 3m (9'9) or 4m (13'1) wide.
* You can choose any length usually to the nearest 10cm. Please allow an extra 10-20cm on to your nett length to help with the installation process.
* Please note that some of our 'off a roll' products have a minimum length quantity that we allow to be purchased.
Example: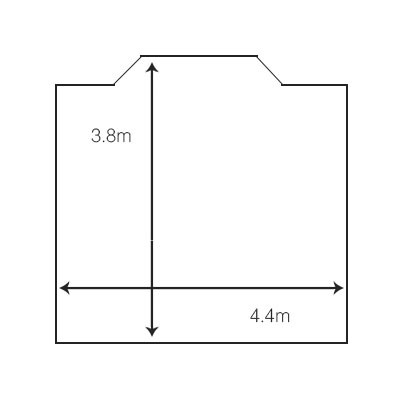 The room has a bay window, making the room a slightly odd shape – In this instance, this doesn't affect how you measure the room. The nett sizes are 4.4×3.8m. So, including a little extra length for tolerence & fitting, you would order 4.5x4m.
If the room was wider than 4m, let's say 4.4×4.4m, then you would either need a join (which we can plan for you) or you could order a carpet that is made extra wide, and order 4.5x5m.
Measuring Stairs & Landings
Stairs
Count the total number of steps. Measure the width of a step, and the length of each step (ie. the tread and the drop)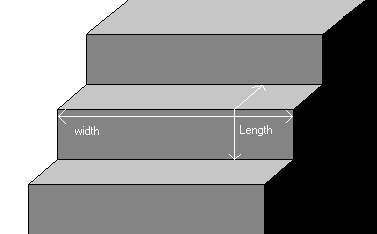 For odd shaped steps, such as a kite shaped step. Measure the longest and widest point of the step.
Hallways/Landings.
For half landings (small areas that seperate a flight of stairs) – Measure the same as a step. ie. Length by Width (Remembering to include the drop on the length).

For Hallways and landings, you are generally measuring the length by width. However, it is often wise to draw a sketch and add all the measurements, as the wastage from, for example, an 'L' shaped Landing, will go towards the stairs. Please make a note of doorways, including the front door and where the stairs run off from the hall, etc. This is to ensure the 'pile direction' and any patterns are planned correctly.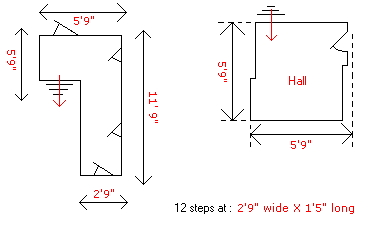 Measuring for Laminate, Woodfloor and Luxury Vinyl Tiles.
There are no limitations such as 'roll width' to consider, unlike carpet. Therefore simply find the area (m2) of your room (Length x width). Add 10% for wastage. Our product calculator will work out how many packs you need. (Each product varies in quantity). For odd shape rooms, draw a diagram and square it off into sections and work out the m2 of each area. – Although, we are happy to do all that for you. Just send us the room diagram with all the required sizes.